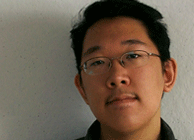 Mingli Chang
Bachelor of Fine Art 2009
Emphasis in Designed Objects
School of the Art Institute of Chicago
Who am I
I am a designer who believes that products are more then physical objects. I like to approach product design as the creation of a prop for a narrative experience.
This may be as subtle as a desk organizer that removes visual clutter for clarity of mind, or as overt as a deflated fabric piggy bank that slowly transforms into a stuffed-animal as the owner continues to deposit coins.
Childhood Dream
As a kid my goal was to become the ultimate LEGO designer. I created a small armada of starships that would be retrofitted as the story progressed. Hinged pieces were my favorite because they allowed me to create dynamic scenes.